Fairfax Paper Shredding
Fairfax Paper Shredding connects you with secure and affordable shredding options. Protect your sensitive personal and business information by properly destroying you paper and magnetic media. Whether you need a shredding services just once or regularly, we're here to help.
About Fairfax Paper Shredding
Fairfax businesses cannot afford to handle sensitive documents containing private information improperly. Several Virginia and federal laws enforce that sensitive documents must be destroyed prior to disposal, and neglecting to do so could have serious consequences.
The disposal of private personal documents at home could also put you and your family at risk. Careless disposal of such documents can lead to identity theft, fraud, and blackmail and can cause serious long-term damage.
Protect your home and business by having a solid plan for the disposal of sensitive documents. Never just throw documents away—file them separately until you can ensure their secure destruction.
The best way to destroy your documents is through the help of a professional shredding service provider. Fairfax Paper Shredding's partners can destroy mountains of documents in no time, can ensure that your documents are promptly recycled, and are fully compliant with local and federal laws.
Once completed, your shredding service provider will give you a Certificate of Destruction for your records. Working with a shredding service providers makes feeling secure in your business and at home easier than ever before.

For more information on Fairfax Paper Shredding's services, explore each services page listed in the navigation bar above. You may also request a free quote or call us at (703) 722-0606.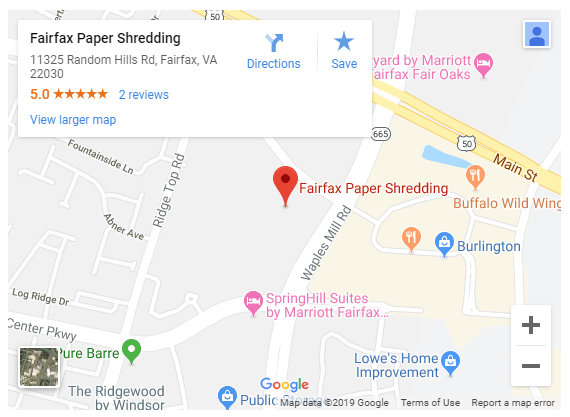 Get Free Quotes on Shredding in Fairfax
Fairfax Shredding Services
We understand how different each shredding job can be, which is why our network supports a variety of services to meet your shredding needs. Here's a look at some of your options:

Service Options Available in Fairfax
One-time Purge: If you only have one shredding project planned for now, the a one-time purge service is exactly what you need.
Ongoing Service: If you anticipate needing a shredding services on a regular basis, you can schedule a weekly, monthly, or quarterly shred. You're given free secure containers to store your documents between our regular visits.